If it needs to be said: spoilers, spoilers, spoilers for all the games!
An Introduction
I just finished Dreamfall Chapters yesterday and had to make an account to get this off my chest (so, hi!)
I swore not to play DFC until all the books were out, as I wanted to play the whole story, start to finish. I also chose to replay The Longest Journey and Dreamfall first, so I had all the information possible and wouldn't forget who anyone or anything was. For further context: I originally played Dreamfall back when it was released and didn't play TLJ for the first time until later.
Since first playing Dreamfall when it came out, I've been waiting for conclusions, but the most important to me was April's fate. Even before I knew her adventures in TLJ, I was sympathetic to this woman who seemed to have sacrificed a lot, become bitter and finally, seemingly, died an ignoble death. After playing TLJ, I truly fell in love with the character. This time around, playing the two games back to back, I became more hopeful that April's story wasn't over - after all, she's a woman of magic and a daughter of a dragon.
The Beginning
So when DFC opened with her bloody funeral, I blinked widely. "Well… <expletive deleted>", thought I (also "hey, is that Brynn and Chawan? I thought you guys died!")
But the theme from the get-go was rebirth and new beginnings. Okay, April's dead, but that doesn't mean she's done necessarily. She's magical! She's the daughter of the White of the Kin! This was going through my head all while I played DFC. I became convinced from the beginning that Saga was April - the house was too similar to Lady Alvane's house - when the baby was born, there was a Shift!
I found both Zoë and Kian much more engaging characters this time around, which helped me through - they seemed like more sympathetic people. Zoë's sense of humour came through much more strongly and I warmed to her a lot.
When Zoë stepped out into Propast for the first time and I saw the tourist map, I just sort of stared at it for a long time. I took a screenshot. I stared at the screenshot. I thought: "I know someone who would have liked this. You are breaking my heart again. Already!"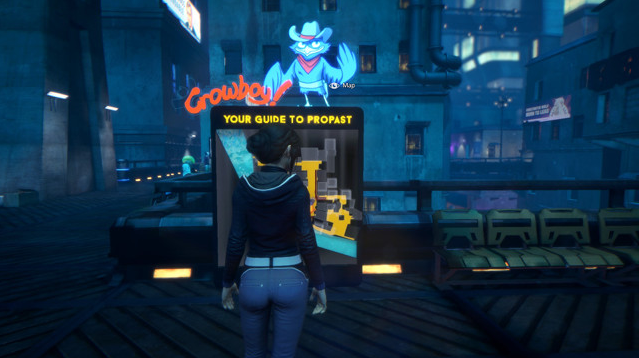 [*sobs bitterly*]
When Kian woke up in the Enclave and I explored, I found the White Dragon mural. That image of her rising up was very powerful (and an obvious inspiration for the rebel emblem). I became more convinced that April would return later, perhaps in dragon form to save the day.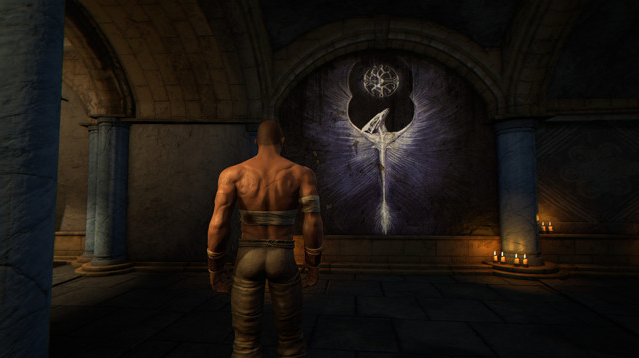 [On the third day she rose again… ?]
...Maybe I'm going through the five stages of grief over here.
The Journey
Kian met the Mole and heard of the Banda genocide. I thought about April's meeting with the Banda in TLJ and how their murder at the hands of the Azadi likely played a part in her change between TLJ and Dreamfall (assuming the genocide occurred in that 10 years and not after April's stabbing). It was another moment that reminded me of April and all the crap she'd been through.
When Saga drew the events of TLJ, I thought she was too old to be April literally, but wondered if April's father's talk of holding a "baby" (at the end of TLJ) hadn't been literally talking about an infant, but a small child. I remembered April had taken her child drawings with her to Newport, but she wasn't sure why she'd done it. I wondered; had she dreamed the events as a child and forgotten about them, but had some subconscious connection to the drawings, prompting her to bring them along (but ironically not looking at them before things kicked off).
Of course, eventually I realised that Saga couldn't literally be April. She became too old to have possibly been the girl adopted in Stark. I started to doubt if the connections between her and April were me just seeing what I wanted to see. But with White Dragon 2.0, Shifting and her art, I decided that the connection had to be intended - it was too much of a coincidence otherwise. Also I was 90% sure Saga's mother was voiced by Sarah Hamilton. So. That.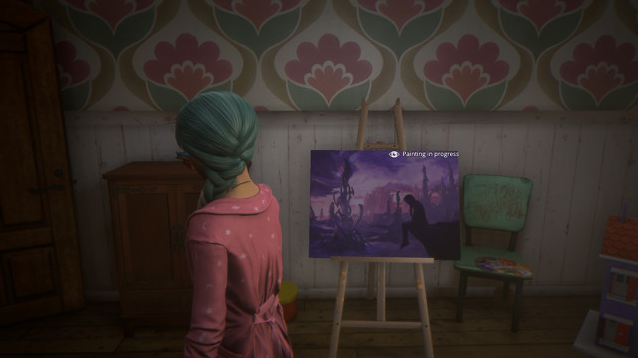 [I'll tell you what it is, Saga: plagiarism! Very pretty plagiarism!]
I played through the game curiously, trying to find answers to all my previous questions (not just the April in the room questions). I wondered who the mysterious Anna could be and went through several (VERY WRONG) theories only to be disappointed that she was a character we'd never heard of before. After that, I started again to worry that Saga would be the same - a brand new character.
Hoo boy.
The End
Before I finished Book 4, I was greeted by the most meta of April reminders, as Crow and Zoë spoke about her. "A lot of people miss her." Ouch. Keep twisting that dagger in my heart, guys.
At the end of the book I went through in my head how many of my questions from Dreamfall were still unanswered. Thus, I was prepared for Book 5 to be a heavy exposition dump (it was). I was also becoming more prepared for the idea that April wasn't going to miraculously show up in any form to save the day.
I wasn't, however, prepared for what I would eventually see.
I was shocked by Mother Utana's betrayal, but I wasn't convinced Kian was dead. I wasn't saddened by the idea of his potential death, either. Kian was a character that, to my mind, didn't necessarily deserve a happy ending. He was a killer and a harsh man, despite his nobility of soul. He was a warrior. We'd only ever seen him as these things - unlike the ladies, we hadn't seen an innocent, unsuspecting side of him. I felt Kian would be satisfied dying as he might have done; to save the Worlds.
When Crow was left alone in the room with the villains, I knew what was going to happen. I was still outraged when Brian snapped his neck like he was nothing. Outraged. Not sad. I knew Crow survived. Crow was with Lady Alvane - who should have been April, I thought, bitterly - and therefore, couldn't be dead, despite this attempt at pathos. I thought, again, he's a being of magic. He was thrown into the Dream Vortex. Maybe death doesn't mean dead here.
Despite that, I teared up when Saga picked up his broken body. Oh, little buddy. Who's going to make jokes at inappropriate times now? Who's going to fly off when I need him most? Best and worst buddy! I also wondered why in the world(s), Saga would take him with her.
Cue the Storytime sequence.
Crow was back, though dead for certain. There was a rapid reveal of much of the plotting left unanswered. I was disappointed to discover that Brian was, indeed, an evil maniac rather than an unwitting pawn. Dreamfall had set that up and I hadn't liked the implications of his villainy in that (and I was sure, since Dreamfall that, it was him who'd killed the White - after all, she recognised her killer and who else had been there in the Dark People's city?) But it was what it was. I sighed and I moved on.
And as I moved on, I saw a young woman standing beside an easel, painting. My heart clutched in my chest. I tried to steel myself.
The conversation was odd, dreamlike (appropriately) and short. Zoë got the information she needed, mostly figuring it out for herself, and left.
And I was left behind with my dear April and Crow. April, still not quite herself, first talking like her Sister Kin. And then she confirmed my worst fears.
"Come on, Crow. We've got a long journey ahead of us."
And they walked out of the story together. For good.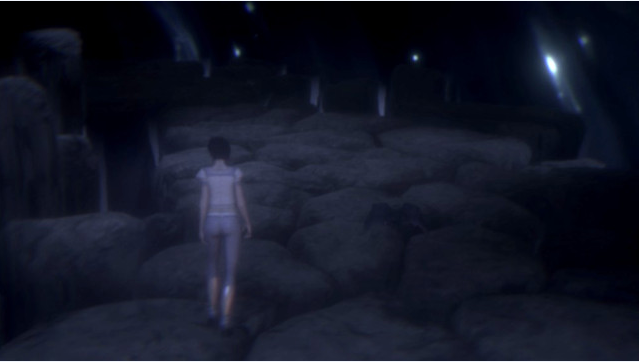 […]
I didn't cry. But it was the closest I came to it throughout the entirety of the game.
Conclusion
So, what was the point of this long and winding stream of text (besides my desperate attempt to find closure)?
Like the previous games in the series, I enjoyed Dreamfall Chapters, despite its shortcomings (and they all have shortcomings). But April...
April deserved better. As a character in a story, one who'd been through so much through TLJ and in the unseen moments between then and Dreamfall, she deserved better than being killed in cold blood just for the worlds and everyone else to move on without her.
Kian and Zoë got happy endings. April just... ended. Became something else.
Saga is a fun character, but she isn't April. I felt like she cheated her way into April's place. After TLJ, it seemed obvious to me that Lady Alvane was April (after all, we had no reason to think it was anyone else - April had the sense that she knew her, she was with Crow and she knew April's story intimately). All that adventuring with Crow in the multiverse could have been April's.
I did enjoy the Epilogue and I did get a bittersweet feeling at seeing young April step through the Shift. But I would've been so much happier if it had been an old April, having lived a long and fulfilling life, sat there waiting to greet her young self and knowing all the great adventures she still had left before her.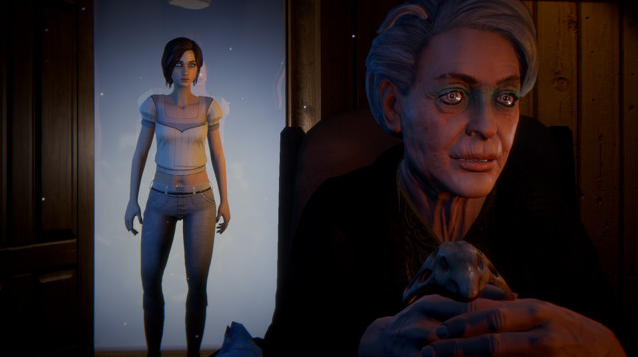 [*bawl*]
It's a testament to April as a character that I felt so attached to her. It's not often in fiction that I feel the loss of a character, whether that be their death or just the end of the story, as if it was the loss of a friend.
...So I guess I've hit the Depression stage of grief. How's everybody else doing?
(PS Gold star if you read the whole thing. I thank you from the bottom of my broken heart)